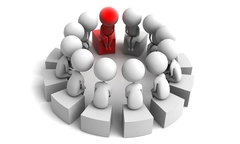 Looking for a different kind of consultant? I learned long ago that every client has problems or they wouldn't need a consultant. Now, some of those problems are temporary and easy to define. When you have a vacancy and certain procedures need to be maintained, there isn't a lot of analysis to be done. You can let the job go undone for 2-3 months or outsource until the position is filled.
In the world of Business Process Consulting, many people skip steps. When you are an expert, you can do that. But most of the time, you are dealing with inter-departmental issues and a wide variety of skill sets, longevity, and even unplanned future vacancies. In the ever complex world of healthcare Revenue Cycle, whether data analytics or contract management, it's important to know and apply the basics of business process planning.
At BRC, we still do things the old-fashion way. We help you identify your problems, prioritize them, brainstorm possible solutions, pick the best option and help you to implement that solution.
Identify Issues. Make a written list of the issues. Define them. That way, when you explain them to a group for consensus or to one person to enlist their help, you have a tangible concept to share. This identification process might even be done in a brainstorming session with a group. Define why you are brought together, what is the pain point that is needing attention. You might have several issues that fall under one big one. Like, the net revenue has dropped 2% last month. OK, what are the issues we know about? Do we need more reports to define the causes? Do we know the areas of leakage?
Prioritize Issues. If you don't have data, getting the report is a natural top priority. If you know that the % is due to patient responsibility, longer discharge to billing time, or backlog in HIM coding, you can prioritize those issues according to either volume or financial impact. The data will guide you.
Brainstorm solutions. Have you had staff vacancies? Consider outsourcing or hiring a recruiter to help with critical needs. Is it the beginning of the calendar year? Which payers have higher patient responsibility and therefore are offering even higher deductible plans than last year? Are there resources that you have or can research to help with reducing the outstanding accounts receivable? Try to come up with three to five solutions for your top 1-2 issues.
Select the Best Options. Solutions you choose will be a combination of what you know are your resources and your quick wins or those options with the most impact. Experience has no substitute here. Follow your gut and agree on a road to take. Choose only 2 solutions at most to begin.
Implement the Best Solutions. Carve out a plan for implementing the one or two solutions you chose. Decide the basics. Define "it." Who will do it? What will they do? When will they do it? How will they do it? Where will they do it? Answer those questions and you have a framework of a plan.
Study the results. Whatever metrics you used to determine your issue and potential solutions, revisit those reports. If needed, devise new reports to study the programs you implemented. Ask people involved for their subjective opinion of what is or isn't working. Most of the time, you should see some kind of result within a couple of months of implementation.
If you have a need, think BRC. Contact us at
info@bloomroad.com or on the Comments page on our website www.bloomroad.com
Be sure to Follow us on Linked In, Twitter, and like us on Facebook.