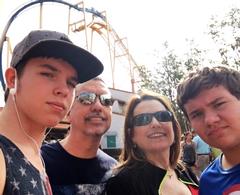 BRC is proud to have Lori as part of our team and to celebrate her latest professional achievement: Epic 2015 Clarity Data Model - Resolute Professional Billing Certification. We asked Lori to tell us a little bit about herself and her road to becoming a health care IT consultant. Here she is in her own words.
I was born and raised in Waco, Texas. Graduated with an Associate's Degree in Nursing from Blinn College in Bryan/College Station, Texas and currently reside in Katy, Texas.
You might ask…but you are a nurse…why are you working as a consultant? Well, that is a good question.
I enjoy working from home, because it allows me to attend to the needs of my two teenage children. My schedule is flexible; I can work at all hours, not the typical nursing shift work. I wanted to be able to watch my children grow up and attend school events and sporting events.
How did I end up where I am now? I was working in the Emergency Room and was the Trauma Registrar and had to submit data to the state. We needed to be able to get this data out of the Meditech, so I began writing reports and even developed a Triage Screen that was utilized on the front lines. So intrigued by making things more efficient, I eventually became a Super user and self-taught NPR Report writer. Not long after that I took NPR Report Writing classes. Soon I also learned Meditech Proration rules and ended up leading the Meditech Upgrades for one of the facilities in which I worked. After my husband graduated from Texas A&M, we moved and the hospital I was working for allowed me the opportunity to work for them remotely on a part time trial basis, which ended up turning into a full time permanent position. I loved it and I haven't looked back.
I enjoy working with BRC because Jodi is very understanding of the issues that come up with life. Jodi and I get each other, our lives, while different, are on similar paths. She encourages me with scripture at just the right times.
We both enjoy diving in and finding what is wrong or could be more efficient within an institution and correcting it. We focus on tools or training that allow the organizations stand on their own. Our goal, while not in our best interest as a company, is for the client to not need us. That means that we succeeded in the best way.
Lori
If you have a need, think BRC. Contact us at
info@bloomroad.com or on the Comments page on our website www.bloomroad.com
Be sure to Follow us on Linked In, Twitter, and like us on Facebook.