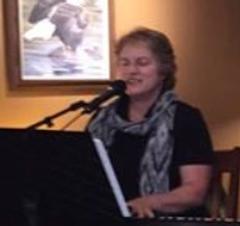 Lead #LikeAGirl 2.0 was a big success. Nearly 200 women and half a dozen men participated in this day of inspiration.
Keynote speaker related her story of how she dared herself to do something different every day for a year. After sharing stories of people she challenged since starting her own journey of dares, Lu Ann challenged each of the attendees to have the courage to dare themselves. I courageously dared myself to sing at a new venue by the end of the year. A fellow attendee, Kathy Becker of Aurora Health Care, encouraged me to sing at the conference, and I took up the challenge. More on that later…
Magda Peck, an accomplished Physician Assistant with a PhD in public health education tied in the keynote speaker's address to her own presentation on public health issues. It was a pleasure to meet with Magda. She cares for her amazing 90-year-old mother who is still an active social worker. Everyone thought Magda was really great,
I drove Lu Ann to the airport. It was fun spending time with Lu Ann. When I told her about my dare and what I was going to do in the afternoon, she dragged out her iPad and recorded me singing on the way to the airport. A day of firsts!
We all enjoyed a power networking lunch. After eating with 7 women I didn't know, we were asked to answer four simple questions and share them with two people at the table. I can't give away the questions because we might use them next year. It was so easy to open up and get to know people. We made many new friends and connections.
Following lunch, Mary Mirabelli, now of Hewlett Packard, gave us some great insights on leadership - Who is your coach, mentor, or sponsor? Do you have them? I have had many people in my life fill those roles, and I have the opportunity to play those roles for others.
Just before moderating the panel in the afternoon, I shared with the attendees about my own self dare, then proceeded to sing a verse and chorus of a song I wrote years ago when my sister was facing surgery. The song "Answer to You Alone" is on my Myspace page in its entirety. I say it is my answer to when we judge ourselves or others. I hope you take a listen. If you are unable to link to the song on the hyperlink, I posted it on the Facebook BRC Business page.
That panel!!! It was a delight to moderate and we could have gone on longer, I'm sure. They were simply amazing -- women who overcame their own self-doubts, their own bad work experiences, and their own scary choices to become executives of pretty big corporations:
Cathy Jacobson, so down to earth and calm as she leads a cast of thousands at Froedtert Health

Coreen Dicus-Johnson, so full of spunk and energy as she capably leads a branch of Wheaton Franciscan Healthcare.

Carol May of Sauk Prairie Healthcare, so many witty statements and wisdom from years of being in the real world.
Being at the conference and singing was a definite departure from the daily routine. The conference committee is already thinking about how to make great memories at next year's event. If you didn't make it, hope to see you next year.
When you have a need, think of BRC.
Follow us on LinkedIn, Twitter, and Facebook. Be sure to visit my webpage at www.bloomroad.com